I hope that you have enjoyed looking at these various measurements on LDOs thus far. In this installment I will be discussing the line regulation measurement. This is actually a much more simple measurement than the NSD and PSRR measurements that I discussed in the last two blogs (see Measuring LDO Noise Spectral Density for a Novice and Measuring LDO Power Supply Rejection Ratio for a Novice). Isn't everything much simpler at DC? Well, as we saw in the last two blogs the NSD and PSRR measurements are not quite as simple at DC since we have to have equipment capable of performing the measurement at such low frequencies. However, in the case of line regulation the measurement is much less complex.
Recall that the reason I have been spending some extended time with these measurements is due to the stringent space application requirements from customers. A device going into space must be much more rigorously evaluated than a device going into a commercial product. Hence the need to do a good deal more characterization and 'proving out' of the device to make sure that it will endure the harsh environment in space as well as the long lifetimes required.
The line regulation measurement simply requires a DC input source and a digital multimeter. It is best to have as much accuracy in both the DC input source and digital multimeter as possible. For the DC input source I chose the Keithley 2230-30-1 triple channel DC power supply. It has 0.03% output voltage accuracy and 0.1% output current accuracy. For the digital multimeter I chose the recently released Keysight 34461A digital multimeter with 6 1/2 digit output capability that replaces the 34401A digital multimeter from Keysight (Agilent). This unit replaces the trusty 34401A unit from Keysight (Agilent) that has been in service for a number of years.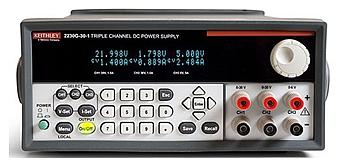 Keithley 2230 DC Source Meter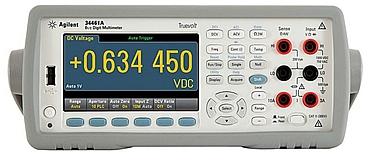 Keysight (Agilent) 34461A Digital Multimeter
The measurement setup for this test is pretty simple. The Keithley 2230 DC power supply connects to the LDO input and the Keysight 34461A connects to the LDO output. The input voltage is varied and the output voltage response is recorded. The line regulation is simply a measurement of ΔVOUT/ΔVIN. The goal of the measurement is to see how much the output voltage changes when the input voltage changes at a given load current. The load resistance RL is set such that typically the maximum current is sourced from the LDO. Ideally there would be no change in the output voltage and it would remain at a constant level, however, in reality this is not possible. The better LDOs on the market will have a very small change in the output voltage for a given change in the input voltage.
Line Regulation Measurement Setup