Looking at control panel area two you can see more push buttons and a huge area of potentiometer-like controls. Again, this is surely something you do not see a lot of today. The displays remind me of the old alarm clocks that I used to have with the seven segments for the numbers. It definitely takes me back a few years! I'm left wondering, "What do all those buttons and potentiometers control?"
Last, but certainly not the least of the cool things at the cyclotron, is where the actual radiation beam exits the cyclotron and is used to irradiate the devices being tested. You can see this is quite a piece of machinery from the photo below. Notice the metal cap with the "X" marked on it. This is the actual point where the radiation is emitted. The device under test would be placed directly in line with this point so that it can be irradiated. A key reminder is due here: This is NOT where you want to be during the test! There is an isolated chamber above the radiation beam area that is safe from any exposure to the radiation emitted by the cyclotron.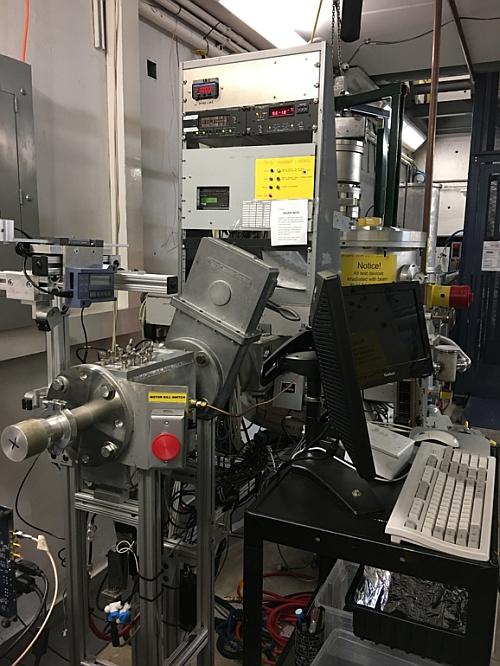 The device under test is set up in front of the radiation beam and all the necessary cabling is routed up to the isolated chamber above the radiation beam where the user controls the device and associated test equipment. The chamber has a telephone line back to the main cyclotron control room so that the control room can enable and disable the radiation beam at the appropriate time (of course, the beam is always disabled while any person is present with the radiation beam). Depending upon the level of radiation testing required different elements can be used to achieve different levels of radiation. In the particular set of tests performed during the experiments I was a part of, radiation levels from 20 MeV up to 80 MeV were used.
Overall, this was quite an interesting experience for me. I was quite impressed with the technology in the control room. One would fully expect to see that latest and greatest in technology, but instead you are greeted with old school analog meters, dials, and push button controls. It is such a great testament to the ingenuity of the engineers who designed this equipment to perform the operation it does and to last for such an extended period. I left quite impressed with the cyclotron. I look forward to getting a chance to return and perform tests on other devices. I'd like to thank the great folks at the Cyclotron Institute at Texas A&M for maintaining this facility and leasing out its use for folks like myself to perform radiation testing on devices.